Rss feed
PREVENTATIVE CORONAVIRUS GUIDELINES FOR OUR LAW ENFORCEMENT FAMILY
Tuesday, 08 September 2020
**Originally Posted SATURDAY, 28 MARCH 2020Our priority will always be protecting our communities and amidst the Coronavirus outbreak, we're still out there ensuring that everyone is safe while our nation experiences new challenges every day.Here are some useful tips for our fellow officers to remember via the Centers for Disease Control and Prevention that can help keep all of us protected as well.Be sure to share and together we can all help #FlattenTheCurve!Source: https://www.cdc.gov...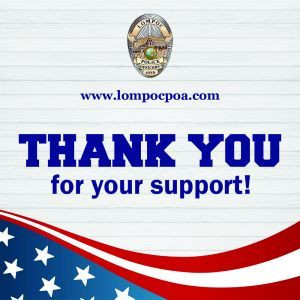 THANK YOU FOR SUPPORTING THE BADGE
Tuesday, 08 September 2020
**Originally Posted FRIDAY, 11 JANUARY 2019The Lompoc Police Officers Association would like to thank YOU for your donation, time and committed support during our "Support The Badge" fundraising campaign. Your generous donations will help us support our critically injured officers and their families.Thank you for your generosity and for standing side-by-side with our law enforcement family.Thank YOU for joining our police family and being part of a community team that connects us all t...
HELP MAKE A DIFFERENCE IN OUR COMMUNITY!
Tuesday, 08 September 2020
**Originally Posted TUESDAY, 05 DECEMBER 2017On behalf of our officers and our fellow citizens, the Lompoc Police Officers' Association is asking you today for your support. While our nation is facing unprecedented times, we are thankful for our community who has stayed strong and united and we value the support you have shown our officers. Donate Here Today! The Lompoc Police Officers' Association is dedicated to safety and improving our community, but we need your help! Your supp...
CALLING ALL LOCAL BUSINESSES
Tuesday, 08 September 2020
**Originally Posted FRIDAY, 29 APRIL 2016Small businesses are a major contributor to the strength of our local economy. Literally, small businesses are the backbone of our local community and we appreciate your investment and hard work to make our community a great place to live and work.According to the 2010 Census, 99.7% of U.S. employer firms are small businesses. Almost half of the nation's private sector workforce is employed by small business, there is nothing small about these fa...